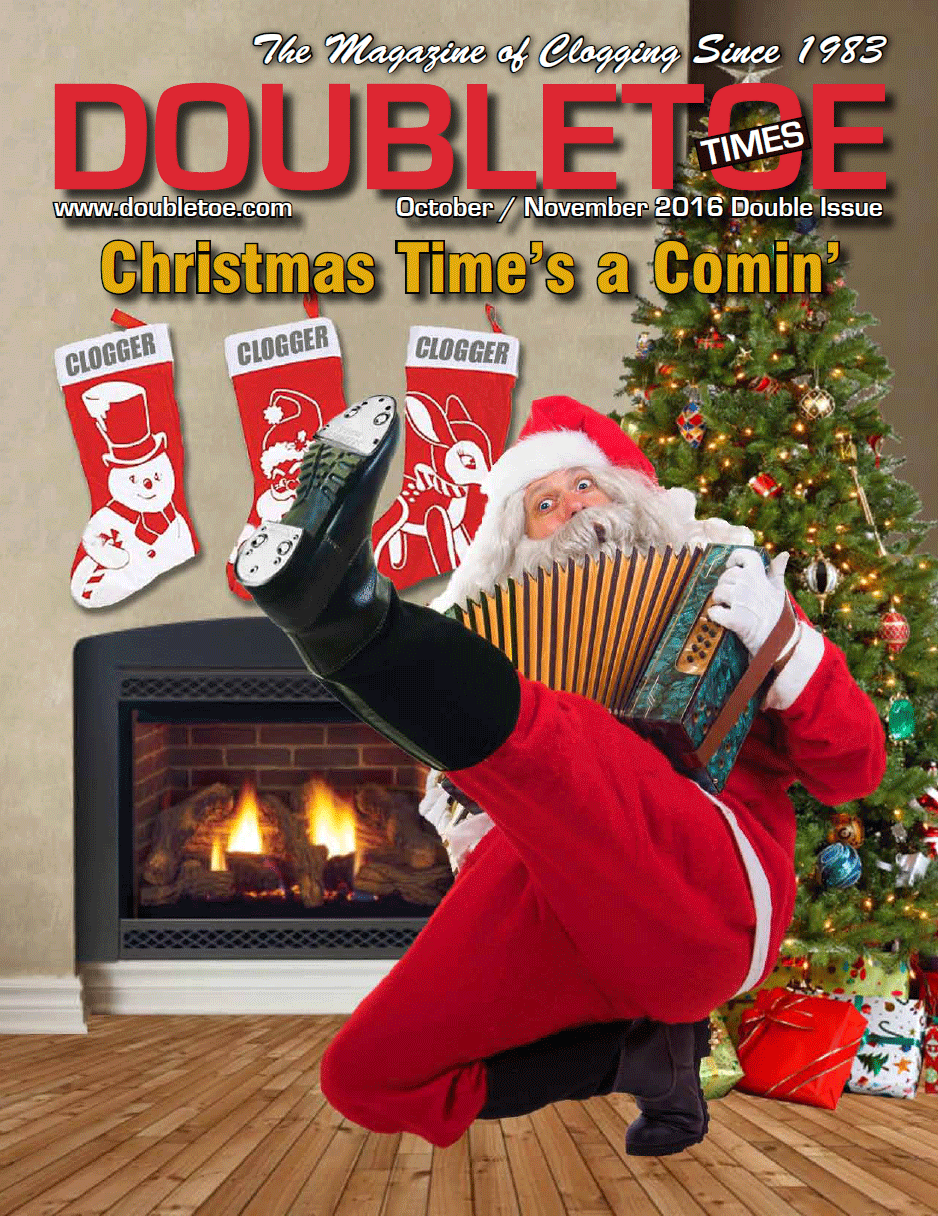 October November 2016 Issue Out Now
Footprint "God Bless Christmas"
Calendar of EventsAmerica's Clogging Hall of Fame Inductees
Holiday Gift Ideas for Cloggers
Fun Clogging Party Ideas
Choreo "With Bells On" by Carol Collins, GA
Choreo "Sleigh Ride" by Darolyn Pchajek, Canada
Choreo "Rockabilly Christmas" by Darlene Cummings, Canada
Choreo "Reindeer Boogie" by Lynn Roberts, TX
Choreo "Santa's Party" by Colleen Zurbrigg, Canada
Choreo "Nuttin for Christmas" by Darolyn Pchajek, Canada
Choreo "Merry Christmas Baby" by Darolyn Pchajek, Canada
Choreo "Have a Holly Jolly Christmas" by Barbara Cook, FL
Choreo "Country Christmas" by Barbara Cook, FL
Choreo "Christmas Time on Rocky Top" by Dawn Kropff, TN
Instructors and Dancer Directory
Advertising Index
Stevens Clogging Supplies
America's Clogging Hall of Fame
Rags and Reels Music CD
CLOG National Convention
Cabin Fever Clogging Workshop
Fontana Clogging Jamboree
World of Clogging WorkshopDouble Toe Times Subscription
Carl's Clogging Supply
subscribe now in DIGITAL or printed format!
Check out the latest clogging news
The Double Toe Times has been the monthly magazine for clog dancers around the world for since 1983! Read by thousands of clogging teachers and dancers throughout the U.S., Canada and around the world, the Double Toe Times brings you the latest in clogging news, views and cues!
Check us out on Facebook and Twitter
Some of our forms and files require Adobe Acrobat Reader
Click the link below to download the latest FREE version